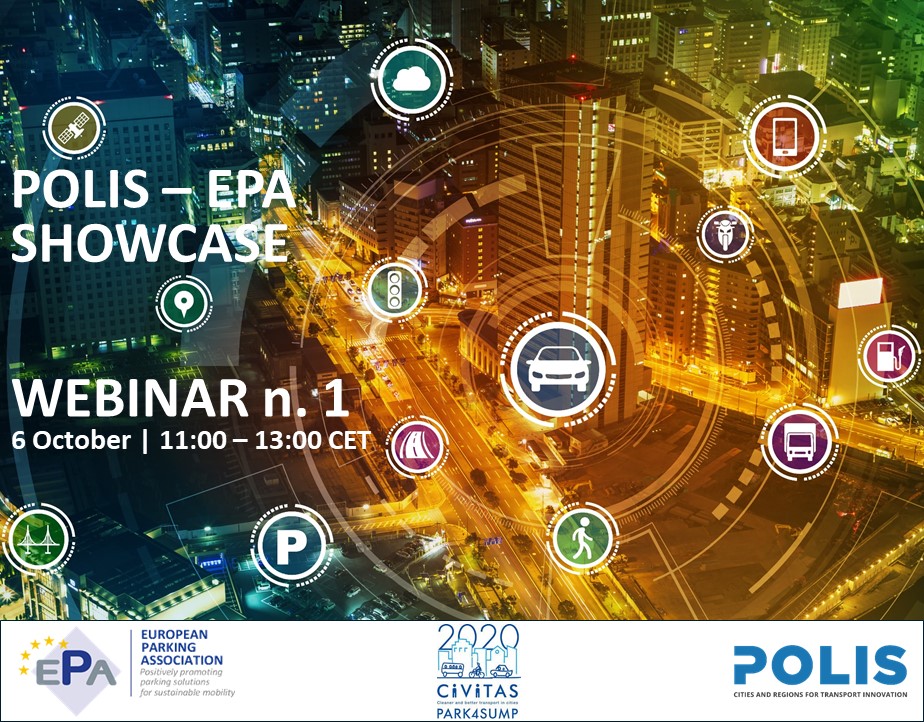 Dear friends and colleagues,
EPA and POLIS look forward to welcoming you to the 1st EPA – POLIS webinar on the 6th October 2021 from 11:00-13:00.
The EPA-POLIS 2021/22 series of webinars will be presenting state of the art solutions where the accent will be on the operational, environmental and economic opportunities that are generated by integrated vehicle parking management.
Old dogmas must be overcome to implement innovative mobility services. "New Mobility" doesn't exist without regulation, control and space management, in other words, "New Mobility" doesn't just happen on its own and as we will hear, integration with the static part of mobility is key.
Parking space management (fees, controls, regulations and services) is an important link enabling the modal split variation between individual to public transportation or new mobility schemes (eg. EV, loading and unloading bays). Car parks are being rapidly transformed into "Urban Mobility Hubs" connecting and enabling a modal shift of people and goods. Smart Parking solutions (digital connectivity) seamlessly integrate to Smart Mobility and Smart City solutions. The parking sector, with decades of experience in on- and off-street parking, is integrating with all new mobility services facilitating a viable shift to sustainable mobility solutions.
We attach the program that is also available on both the EPA and Polis websites. Participation is free of charge but requires registration at the following link:
https://polisnetwork.civi-go.net/civicrm/event/register?reset=1&id=202&cid=0
This series of webinars contribute to a build-up "On the Road to the 20th EPA Congress 2022" in Brussels and "On the Road to the Annual Polis Conference 2021" in Gothenburg.
Our very best wishes,
| | | |
| --- | --- | --- |
| Ivo Cre | | Laurence A. Bannerman |
| Director Policy and Projects | | President |
| POLIS Network | | European Parking Association |
1st EPA-POLIS Webinar Program - 6.10.21
The webinar will be moderated by Ivo Cre, the Director of Policy & Projects at POLIS.
Opening & Welcome, Laurence Bannerman, President EPA
The City of Lisbon – MOVE LISBOA – strategic visions for mobility 2030, Oscar Rodrigues Director of EMEL (Lisbon's Mobility and Parking Company).
The City of Barcelona – A brief integrated vehicle management overview and a new Last Mile Strategic Approach, AnnaXicoy, Vice General Manager Operations – Daniel Aicart, Head of Strategic Planning and Analysis, BSM S.A.
The City of Milan – The centralised mobility platform managing and implementing integrated parking services supporting mobility strategies: Roberto Carreri, Director of Research, Development and Digital Innovation, ATM S.p.A. Milan.
Questions and Answers
The City of Oxford – Oxfordshire County Council in Collaboration with the National Parking Platform: Emma Liptrot, Deputy Civil Enforcement Manager – Permits and Park & Ride Services Oxfordshire County Council
The City of Colchester – The Park Active Project encouraging inner city last mile active travel for citizens: Richard Walker, North Essex Parking Partnership Group Manager
City of Krakow – Parking policies enabling new mobility solutions – results and acceptance: Tomasz Zwolinski, Chief Mobility Specialist, Urban Utilities Department, The City of Krakow.
Questions and Discussions
Closing of the Webinar